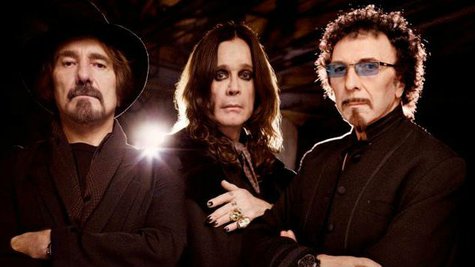 In a new interview with Guitar World , Black Sabbath guitarist Tony Iommi recounts the harrowing fight he mounted against lymphoma as his band worked to complete 13 , its first studio album in 35 years to feature founding frontman Ozzy Osbourne .
Iommi discovered he had cancer shortly after the band's late 2011 announcement that they planned to reunite for a new album and tour. The 65-year-old rock legend tells the magazine that after he found out about his diagnosis, "I thought, 'Bloody cancerous lymphoma? Well that's it. I've had it.'"
He says that although the treatment sapped him of his strength, he soon became determined to regain his health. "I'd go through stages thinking, 'Can I do this?'" he explains. "And then: 'Of course I can do this. I don't want to die. I want to carry on and do what I'm supposed to do.'"
Iommi says that while battling the illness, he also became motivated to keep creating, and ended up writing a lot of new material for Sabbath's forthcoming album.
Osbourne, meanwhile, tells Guitar World that he and bassist Geezer Butler tried to be supportive of their ailing band mate, although they made sure not to dote on him.
"We all rallied around him," says Ozzy. "But it's not like we'd be saying, 'Are you okay? Are you okay?' We just got on with it." Osbourne adds that while it was obvious that Iommi was tired, "He was a soldier and marched on. He still had more riffs coming out of him than anyone."
As for Butler, he says focusing on the Sabbath album "encouraged [Tony] and kept his mind off the cancer, which is the best thing you can possibly do if you have that."
Meanwhile, Iommi also recalls his reaction to finding out that founding Sabbath drummer Bill Ward had decided not to participate in the band's reunion because he was unhappy with the contract he was offered.
"I was shocked," the guitarist admits to Guitar World . "We were hearing stuff from lawyers, like, 'I'm not happy with this. I'm not happy with that.' We waited a long time for Bill and we wanted to sort it out."
Iommi explains that he eventually became impatient when no agreement could be reached with Ward. "At the end of the day, especially after I was diagnosed, I thought, 'F**king hell, that's it," says Tony. "We've got to get a move on. I might pop off next year!"
Iommi reveals that he then emailed Ward and informed him that "we can't wait any longer."
Black Sabbath's 13 will be released on June 11, and the band kicks off a North American tour leg on June 25 in The Woodlands, Texas.
Copyright 2013 ABC News Radio