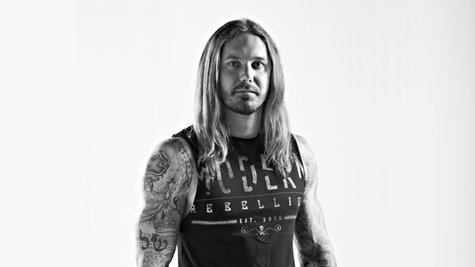 The attorney for As I Lay Dying 's Tim Lambesis says that steroids are to blame for his client's alleged attempt to hire an hitman to kill his estranged wife.
At a hearing in Superior Court in Vista, CA, attorney Thomas Warwick said that Lambesis had begun using steroids after getting involved in body building and claimed the singer's "thought processes were devastatingly affected by his steroid use," reports the San Diego Union-Tribune . The attorney was seeking a reduction in Lambesis bail from $3 million to $250,000. The judge agreed to reduce the bail to $2 million.
Prosecutors say Lambesis thought he was hiring a hitman earlier this month when he gave an undercover officer an envelope containing one thousand dollars plus pictures of his wife and information regarding her home. He also allegedly gave the officer some dates when he would be with the couple's three children, to give him an alibi.
Lambesis' estranged wife, 32-year-old Meggan Lambesis , filed for divorce last September. Prosecutors say that during the previous month, Lambesis told his wife in an email that he'd been having an affair, that he no longer loved her and that he no longer believes in God. As I Lay Dying is often described as a Christian metal band.
Copyright 2013 ABC News Radio