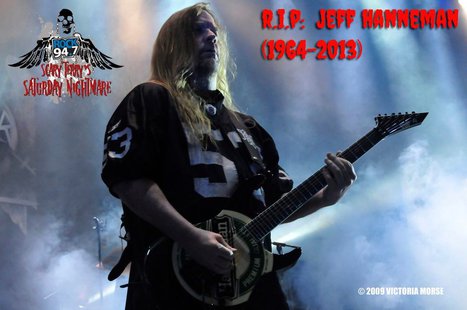 It appears that the upcoming event to honor late Slayer guitarist Jeff Hanneman will have some unwelcome guests. On Thursday, the Westboro Baptist Church announced via Twitter that they plan to picket Hanneman's memorial celebration, which is scheduled to take place on Thursday, May 23 at the Hollywood Palladium in Los Angeles from 3:30 p.m. to 7:30 p.m. PT.
The controversial Christian fundamentalist church has become known for protesting at the funerals of everyone from U.S. soldiers to celebrities and high-profile musicians, including Michael Jackson and Black Sabbath frontman Ronnie James Dio .
Hanneman, who had been taking time off from Slayer since 2011 after contracting the flesh-eating infection necrotizing fasciitis from a spider bite, died at age 49 on May 2 of alcohol-related cirrhosis of the liver.
Copyright 2013 ABC News Radio