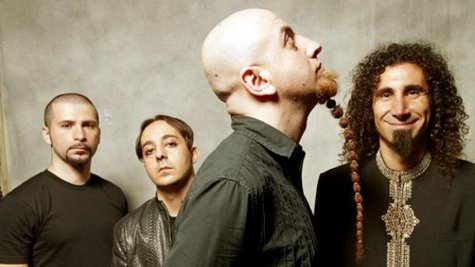 Bassist Shavo Odadjian wants you to know that while System of a Down is ready to make a new album, their lead singer isn't. On Monday, Odadjian took to his Facebook page to claim that frontman Serj Tankian is main reason why the band hasn't recorded their follow-up to their 2005 albums, Mezmerize and Hypnotize .
"It's not us (meaning [guitarist] Daron [ Malakian ], [drummer] John [ Dolmayan ] or Shavo!!)," wrote the bassist. "It's Serj who doesn't want to do a new album!!!! We're trying to get a new album out, it's just not passing Serj's RULES! Kinda funny, since we started the band and now he's holding us back!!"
Odadjian adds that he's so frustrated with Tankian, he's thinking about dismissing him from the group. "We really want another SYSTEM record," he explains. "Wish Serj was down, but if he's not, then I'm going ahead and making a SYSTEM record without him!!! I'm ready to release [an album] with someone who wants to be the singer of SYSTEM, not someone we have to beg to be a part of SYSTEM!!"
It's not as if Tankian hasn't been busy in the interim: he's released three solo albums since SOAD first went on hiatus in 2005. In addition, the singer will be dropping two new music projects, Orca and Jazz-iz Christ , on June 25 and July 23, respectively.
System of a Down will get the chance to discuss a new album when they hit the road this summer. While the group has a number of European festival appearances scheduled, their only North American concert of 2013 will be on July 29 at the Hollywood Bowl in Los Angeles, California.
Copyright 2013 ABC News Radio