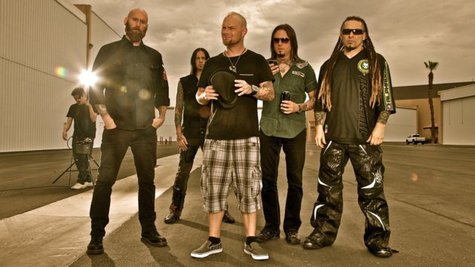 Five Finger Death Punch is set to release "Lift Me Up," the first single from their upcoming fourth studio effort, which features vocals from Judas Priest frontman Rob Halford . While the band premiered the song with Halford during their appearance at the fifth annual Revolver Golden Gods Awards ceremony earlier this month, it is set to arrive at all digital outlets on Tuesday.
"First and foremost, just to work alongside an icon like Rob Halford, THE Metal God, was absolutely surreal," said frontman Ivan Moody in a statement. "The song itself was originally written about overcoming everyday obstacles and less than perfect situations. Most of us weren't born with a silver spoon in our mouth but if life dealt you all the wrong cards, you still have to play. The song's intent is to inspire; if you play that hand right you might just come out on top anyway."
5FDP's upcoming release, The Wrong Side of Heaven and the Righteous Side of Hell , will be split into two volumes, which will be released at different times this year. The first installment arrives in stores on July 23, while the second will appear sometime in the fall.
Copyright 2013 ABC News Radio