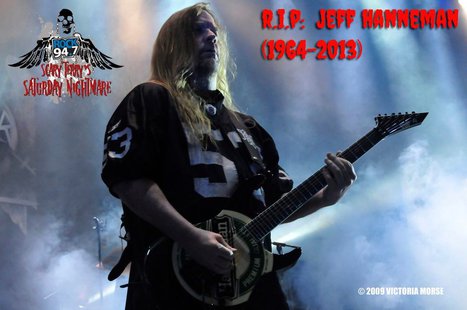 An official cause of death for founding Slayer member and guitarist Jeff Hanneman has been announced by the band.
According to an update posted Thursday on Slayer's website , Hanneman passed away May 2 of alcohol-related cirrhosis of the liver.
Hanneman -- who had been taking time off from the band since 2011, after contracting the flesh-eating infection necrotizing fasciitis from a spider bite -- was 49.
Slayer also announced that there will be a "celebration" of Hanneman's life sometime later this month, which will be open to the public. Additional details will be posted on the website in the near future.
The update also includes memories of Hanneman provided by guitarist Kerry King and bassist/vocalist Tom Araya .
King recalls, "I had so many great times with Jeff...in the early days when we were out on the road, he and I were the night owls, we would stay up all night on the bus, just hanging out, talking, watching movies...World War II movies, horror movies, we watched Full Metal Jacket so many times, we could practically recite all of the dialogue."
Araya shares stories of the band recording music together. He added, "Jeff was a lifeline of Slayer, he wrote so many of the songs that the band will always be known for. He had a good heart, he was a good guy."
Copyright 2013 ABC News Radio