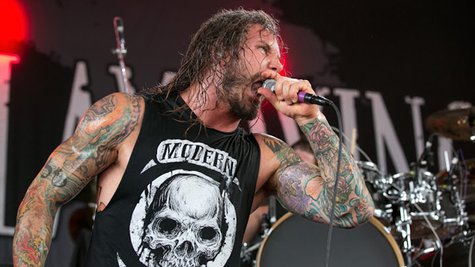 As I Lay Dying singer Tim Lambesis on Thursday pleaded not guilty to solicitation of murder in connection with his alleged murder-for-hire plot, according to NBC 7 San Diego .
The 32-year-old Lambesis was arraigned in a Vista, California, court, two days after he was arrested for allegedly attempting to hire an undercover detective to kill his estranged wife.
Prosecutors say Lambesis gave the detective an envelope containing one thousand dollars, plus pictures of his wife and information regarding her home. He also allegedly told the detective some dates when he would be with the couple's three children, to give him an alibi.
Lambesis' estranged wife, 32-year-old Meggan Lambesis , filed for divorce last September. Prosecutors say that during the previous month, Lambesis told his wife in an email that he'd been having an affair, that he no longer loved her, and that he no longer believes in God. As I Lay Dying is often described as a Christian metal band.
Lambesis is being held on three million dollars bail. He faces up to nine years behind bars if convicted.
Copyright 2013 ABC News Radio