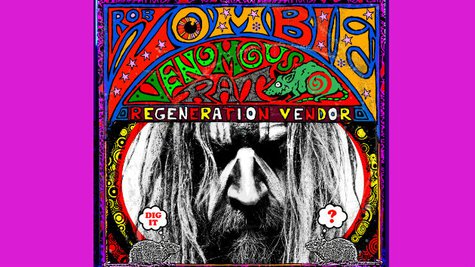 Rob Zombie 's fifth solo album, Venomous Rat Regeneration Vendor , debuted in the #7 spot on the Billboard 200 albums chart last week, selling 34,000 copies, according to Nielsen Soundscan. The singer says that his band's current lineup, which now includes former Marilyn Manson drummer Ginger Fish , helped to inspire the singer to create the release.
"We [were] really needing a new record because this band had been together for a while and we were really jazzed about the lineup, and we just felt ready," he tells ABC News Radio. "It wasn't an obligation to make a record…we were just very excited to make the record, and…I think it's the best record I've done for sure in ten years or so, maybe even much longer."
Zombie adds that while he isn't a fan of doing cover songs, he decided to include a cover of Grand Funk Railroad 's "We're an American Band" on the release because of its message. "I never do cover songs, we never play cover songs, but I want to this time just because we do so much touring it would just be fun to have it," he explains. "I needed a song that I could relate to and that song is basically a song about being an American band and touring and life on the road, and we certainly could relate to that. So, you know, it worked out good."
You'll get your chance to hear the new songs performed live when Zombie headlines this year's Rockstar Mayhem Festival, which will roll through 26 cities in the U.S. and Canada between late June and early August. That outing kicks off on June 29 at the San Manuel Amphitheater in San Bernardino, CA. Other acts set to take the stage as part of the event include Five Finger Death Punch , Mastodon and Machine Head .
Copyright 2013 ABC News Radio