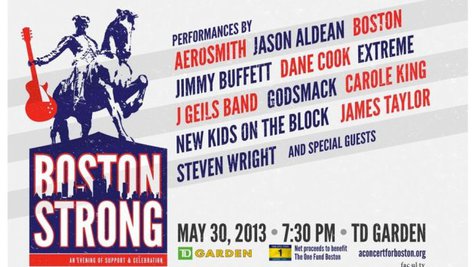 Some of Boston's best known acts -- and more -- are coming together in support of the victims of the Boston Marathon bombings.
Boston Strong: An Evening of Support and Celebration , will take place at the TD Garden on Thursday, May 30, and will feature sets from a number of rock acts including Aerosmith , Godsmack , Extreme , The J. Geils Band and Boston . Other notables set to hit the stage at the event include New Kids on the Block , legendary singer-songwriters James Taylor , Carole King and Jimmy Buffett , as well as country star Jason Aldean . Comedians Steven Wright and Dane Cook are also on the bill.
All proceeds from Boston Strong: An Evening of Support and Celebration will go to The One Fund Boston, which was established by the governor of Massachusetts and the mayor of Boston to help those affected by the April 15 bombings.
In a statement, James Taylor said, "The One Fund event at the Garden this May 30th is destined to be a true Boston landmark. From the promoters to the sound & lights, to the performers and the Garden staff; everyone involved has responded from the heart in a spontaneous and simultaneous desire to be there, and to do what we can for the city we love. I am honored to be a part of it, and…I can't wait."
Tickets range in price from $35 to $285, and go on sale Monday, May 6 via LiveNation.com and Ticketmaster.com. For more information, visit AConcertforBoston.org .
Copyright 2013 ABC News Radio