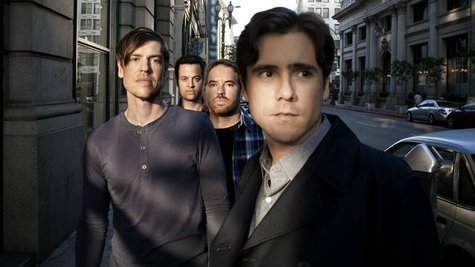 If you're looking for a happy tune on Jimmy Eat World 's upcoming album, Damage , you won't find one. Frontman Jim Adkins says that the tracks feature somber lyrics, in keeping with the album's central theme, which revolves around relationship issues.
"Nothing is less effective for me than when you stack happy on top of happy," Adkins tells Billboard.com . "I just can't have empathy for that type of song. The kind of love songs that I'm attracted to, that interest me or I find interesting to explore, are the windows of adversity, heartbreak, or break-up…they always speak to me more."
Damage will arrive in stores on June 11 and features 10 new tracks. If you pre-order the album now at iTunes , you'll score an immediate download of the first single, "I Will Steal You Back."
A few weeks after Damage is released, Jimmy Eat World will hit the road for a North American headlining tour, which kicks off on June 30 at Club Zoo in Pittsburgh, Pennsylvania. Visit JimmyEatWorld.com to view the full itinerary.
Copyright 2013 ABC News Radio