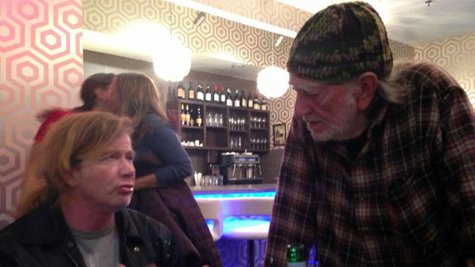 Megadeth frontman Dave Mustaine is hoping he can persuade country icon Willie Nelson to contribute to the band's upcoming album, Super Collider .
On Thursday night, Mustaine took to his Twitter account to let fans know that he ran into Nelson while he was out grabbing a bite in Austin, Texas, tweeting , "Willie Nelson is in the restaurant I am eating at. I just met him! How cool is this??? @willienelson."
It appears that the meeting went well because one hour later, Mustaine tweeted a photo of himself chatting with Nelson, along with the caption, "I'm talking to Willie about a guest appearance on "The Blackest Crow". #WillieNelson #SuperCollider."
We'll find out if Nelson shows up on Super Collider when the album arrives in stores in June.
Copyright 2013 ABC News Radio