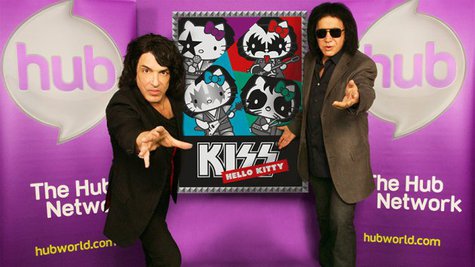 They're two great franchises that go great together, and now the popular cross-branding of the rock band KISS and Hello Kitty products is set to yield a new animated TV series . The cartoon, which features the apt working title of KISS Hello Kitty , is being developed for the children's cable channel The Hub Network.
The family-friendly program will focus on the exploits of four KISS-makeup-wearing feline characters that are "living their rock 'n' roll dreams and bringing pink anarchy to every situation they are in." KISS singer/bassist Gene Simmons is serving as one of the show's executive producers.
"The Hub Network is the perfect home for the TV show, KISS Hello Kitty ," said Simmons in a statement. "We are incredibly excited about this opportunity and want to make all our millions of fans worldwide proud of a show they can watch with the whole family."
Adds KISS singer/guitarist Paul Stanley , "Knowing and viewing The Hub as I do daily with my three children, it is the perfect home for us to bring the KISS Hello Kitty juggernaut to yet another generation."
KISS first teamed up with the Sanrio company, makers of Hello Kitty products, back in 2010 for KISS x Hello Kitty -- a line of co-branded items that include toys, clothing, electronics, stationery and more.
Copyright 2013 ABC News Radio