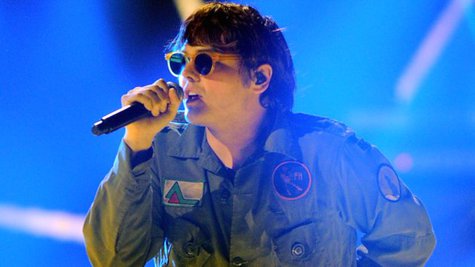 On Friday, fans of My Chemical Romance got the shocking news that the band has broken up after 12 years of making music together. Now, frontman Gerard Way has posted a lengthy open letter on Twitter to discuss his reaction to the band's spilt.
"We were spectacular," he writes. "Every show I knew this, every show I felt it with or without external confirmation. There were some clunkers, sometimes our secondhand gear broke, sometimes I had no voice -- we were still great. It is this belief that made us who we were…and all of the things that made us great were the very things that were going to end us."
Way adds that the band had a "doomsday device" built into it which the guys could detonate if they felt they weren't happy with the kind of music they were making. "[MCR was] a perfect machine…under directive to terminate before it becomes compromised," he explains. "To protect the idea -- at all costs. No compromise. No surrender. No f**king s**t. To me that's rock and roll."
The singer finishes his letter thanking his band mates and fans for their support over the years. "I feel love for you, for our crew, our team, and for every single human being I have shared the band and stage with...but [MCR] can never die," he writes. "It is alive in me, in the guys, and it is alive inside all of you. I always knew that, and I think you did too. Because it is not a band -- it is an idea."
Copyright 2013 ABC News Radio