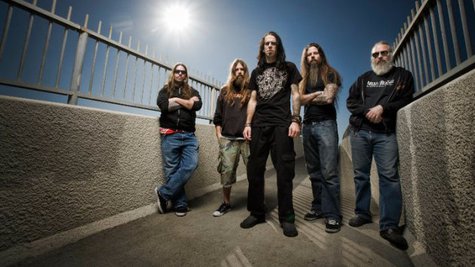 With frontman Randy Blythe recently acquitted of manslaughter by a Czech Republic court, Lamb of God is ready to get back out on the road. The band has just unveiled a lengthy list of tour dates in support of their latest album, Resolution .
The North American trek kicks off on May 16 at The Orange Peel in Asheville, North Carolina and will make stops in Nashville, Salt Lake City, Atlantic City and Baltiomre, among other cities. Decapitated with Terror and The Acacia Strain will open for the band on select dates.
In addition, Lamb of God has announced that they'll be holding their own themed summer camp shortly after their tour ends. Dubbed the Metal on the Mountain Retreat, the event will be held July 15-19 at the Full Moon Resort in Big Indian, New York. The retreat will offer a variety of workshops taught by band members, including guitar and drum clinics, songwriting sessions and nightly jam sessions where fans will get to perform with the group.
The camp will also include Q&A sessions with Lamb of God and a full concert by the band on the last night of the event. For more information on the retreat, go to MetalOnTheMountain.com .
Here are the tour dates:
5/16 -- Asheville, NC, The Orange Peel
5/17 -- Chattanooga, TN, Track 29
5/18 -- Nashville, TN, Marathon Music Works
5/19 -- Columbus, OH, Rock on the Range
5/20 -- Columbia, MO, Blue Note
5/22 -- Boulder, CO, Boulder Theater
5/23 -- Salt Lake City, UT, In The Venue
5/24 -- Boise, ID, Revolution Center
5/25 -- Reno, NV, Knitting Factory
5/26 -- Ventura, CA, Ventura Theater
5/28 -- Tucson, AZ, Rialto Theater
5/29 -- Anaheim, CA, The Grove
5/31 -- Chico, CA, Senator Theater
6/1 -- Portland, OR, Roseland Ballroom
6/2 -- Kennewick, WA, Toyota Ice Arena
6/3 -- Missoula, MT, Wilma Theater
6/4 -- Billings, MT, Shrine Auditorium
6/6 -- Fargo, ND, The Venue
6/7 -- Madison, WI, Orpheum Theater
6/8 -- Lincoln, NE, Bourbon Theater
6/9 -- Wichita, KS, The Cotillion
6/10 -- Tulsa, OK, Cain's Ballroom
6/12 -- Ft. Wayne, IN, Pierre's
6/13 -- Rochester, NY, Water Street Music Hall
6/14 -- Atlantic City, NJ, House of Blues
6/15 -- Montebello, QC, Montebello Marina
6/16 -- Portland, ME, State Theater
6/18 -- Worcester, MA, Palladium Ballroom
6/19 -- Baltimore, MD, Rams Head
6/20 -- Norfolk, VA, The Norva
Copyright 2013 ABC News Radio