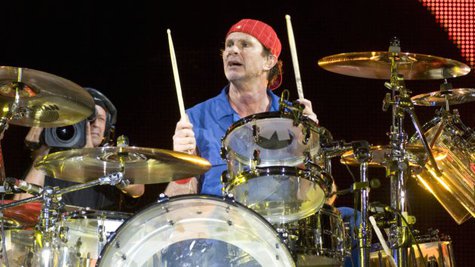 Red Hot Chili Peppers ' Chad Smith is currently in Washington D.C. with members of the National Association of Music Merchants in order to lobby Congress about the importance of funding comprehensive music education in the nation's schools. Smith says he knew he needed to lend his voice to the cause because of the impact music education had on his life.
"Music saved me from going down a wrong path," he tells ABC News Radio. "You're going to school and they would have band classes after school instead of…getting in trouble. I mean, it's just gonna keep kids off the street."
The drummer adds that he's shocked by the steady decline of music programs in public schools. "The arts and music [programs], it's the first thing that goes now in schools," says Smith. "They'll buy new shoulder pads for the football team, but they won't have a music program. It's incredible to me."
He notes that his ultimate goal is for kids to get the same opportunities that he did in school so they can achieve a career in music. "We need to have these things, and not just in private schools or taking private lessons," he explains. "We need them to be available to the kid that goes to the public school to have our next generations of great artists and great musicians."
Smith will be speaking to NAMM delegates and guests at a dinner at the U.S. Capitol on Tuesday, and will be in meetings on Capitol Hill with members of Congress on Wednesday.
Copyright 2013 ABC News Radio