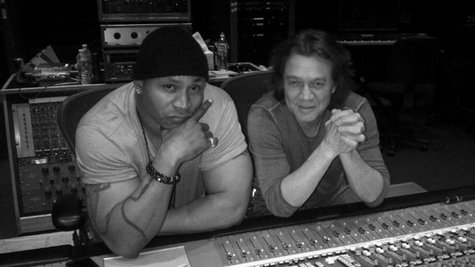 On Thursday afternoon, Eddie Van Halen tweeted a picture of himself sitting next to actor and rapper LL Cool J , with the message, "Authentic 4.30.13" attached. The photo sparked rumors that the two would be working together on the rapper's upcoming album, Authentic , due on April 30.
Now, the Van Halen fansite Van Halen News Desk reports that LL has confirmed he worked with the legendary guitarist on a track for Authentic on Thursday night during a performance at the South by Southwest festival in Austin, Texas. No other information about the song they recorded has been made available.
In addition to Van Halen, Authentic features guest appearances by Rage Against the Machine guitarist Tom Morello and Blink-182 drummer Travis Barker , who performed LL's new song "Whaddup" with him at the 55th Annual Grammy Awards last month.
Copyright 2013 ABC News Radio