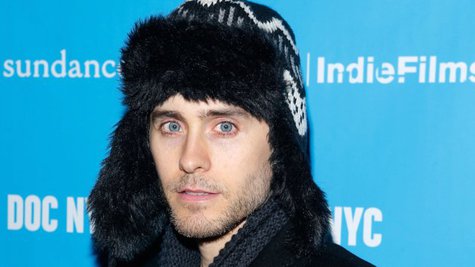 30 Seconds to Mars frontman Jared Leto looks good now, but he recently shed a large amount of weight to play a 1980s transsexual with AIDS for his first film in five years, The Dallas Buyers Club .
"It was a powerful experience," he tells EOnline.com in a video interview. "I lost about 30 pounds…I got down to 116 or something. I just basically didn't eat." Leto says that he dropped the weight so he could feel "very fragile and delicate and unsafe," which is what he felt the role demanded.
The singer adds that while he was filming the role, his friends and family weren't thrilled to see him looking so unhealthy. "If you run into people or see family who don't know what you're doing, they think that you're sick," he explains.
In other 30 Seconds to Mars news, the band will premiere their new single, "Up in the Air," on Monday. The guys will play the track -- the first copy of which recently made the trip up to the International Space Station -- and do a live online interview with astronaut Tom Marshburn , who's aboard the space station. Look for more information about the chat soon on the band's website, ThirtySecondsToMars.com .
The digital release of "Up in the Air" is set for Tuesday.
Copyright 2013 ABC News Radio