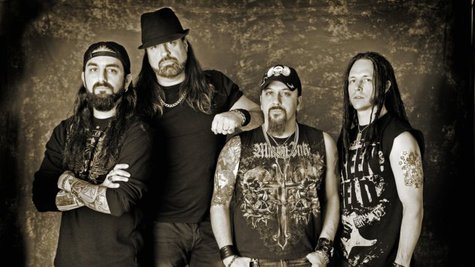 On Tuesday, Adrenaline Mob released their Coverta EP which features cover versions of some of the band's favorite songs, including cuts by Dio , Van Halen , Led Zeppelin and Black Sabbath . Bassist John Moyer says that the eight-track release is all about paying tribute to the legendary artists they admire, rather than completely reinterpreting the songs themselves.
"Learning the songs and then just naturally playing them you're going to have your own stamp on what you do," he tells ABC News Radio. "But for myself, I didn't really want to stray too far from the originals because those songs are great for a reason and to change them too much I think would be blasphemous."
Drummer Mike Portnoy says that decision to release Coverta stemmed from the fact that the band wanted something new to promote out on the road. "We knew we…wanted to do a lot more touring this year but we felt that it was too soon to put out a new full-length album," he explains. "So the idea came up to just do some covers and have the best of both worlds. Have a new product that the fans can enjoy but at the same time still be out there supporting [our 2012 debut album] Omertá ."
Adrenaline Mob is currently trekking across North America. Visit AdrenalineMob.com to view the full itinerary.
Copyright 2013 ABC News Radio