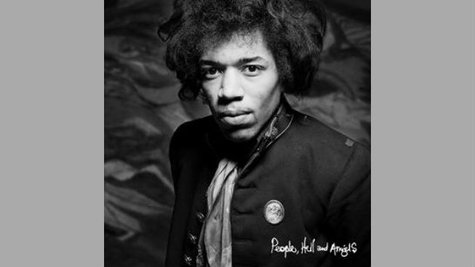 Jimi Hendrix has been dead for more than 42 years, but his music is still making an impact on the Billboard charts. People, Hell and Angels , the guitar legend's new album of archival studio recordings, has bowed at #2 on the Billboard 200 after selling 72,000 copies during its first week of release.
The new collection becomes Hendrix's highest-charting album since his final studio effort, Electric Ladyland , which topped the tally for two weeks back in November of 1968. People, Hell and Angels also is the first posthumous record to make it as high as #2 on the Billboard 200 since Michael Jackson 's This Is It ascended to the same position in 2009.
Hendrix's last album to climb to the upper reaches of the chart was another archival collection, 2010's Valleys of Neptune , which hit #4 after selling 95,000 copies during its debut week. Yahoo!'s Chart Watch blog reports that People, Hell and Angels is the Rock and Roll Hall of Famer's 35th posthumous record to land on the Billboard 200. At the time of his death in September 1970 at age 27, Hendrix had only released three studio albums.
Copyright 2013 ABC News Radio