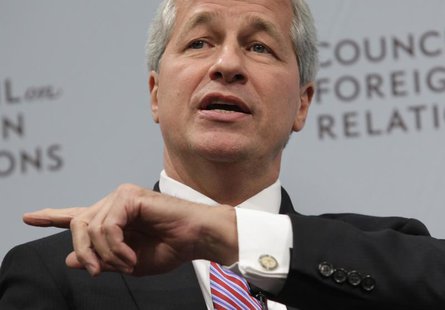 WASHINGTON (Reuters) - Current and former top executives of JPMorgan Chase & Co will appear before a Senate panel on Friday to testify about the multibillion dollar "London Whale" trading loss, but Chief Executive Jamie Dimon will not be a witness.
The Senate Permanent Subcommittee on Investigations released a witness list for the hearing, which included Ina Drew, the former chief investment officer who ran the London-based group responsible for the $6 billion trading loss.
Douglas Braunstein, the former chief financial officer, and Michael Cavanaugh, the JPMorgan executive who led the internal investigation into the losses, will also testify.
In addition, officials from the Office of the Comptroller of the Currency, one of the bank's primary regulators, will appear.
Tara Andringa, a spokeswoman for the Senate panel, said Dimon was not asked to testify, noting he has already testified twice. Last June, Dimon testified before the Senate Banking Committee and the House Financial Services Committee, during which he apologized for the trading loss.
JPMorgan spokeswoman Jennifer Zuccarelli declined to comment.
Dimon, to date, has been front and center in explaining the trading loss. He was criticized for initially dismissing rumors of a troubled trading position as a "tempest in a teapot" during an April conference call.
Less than a month later, the bank disclosed problems with the trading strategy, and later said it lost $6.2 billion from the trades.
The Senate Permanent Subcommittee on Investigations, chaired by retiring Senator Carl Levin, a Michigan Democrat, has spent months investigating why JPMorgan top management and regulators did not spot the dangerous and ultimately costly trades in an obscure corner of the credit market.
JPMorgan's losses stemmed from bets by London-based Chief Investment Office trader Bruno Iksil on an index for credit default swaps. His outsized positions earned him the nickname "London Whale" from hedge fund traders taking the other sides of his positions.
The trading loss again put the spotlight on big banks' risk-taking and raised questions about whether certain banks were effectively too big to manage or to regulate.
(Reporting by Karey Van Hall; Editing by Bernadette Baum and Jeffrey Benkoe)