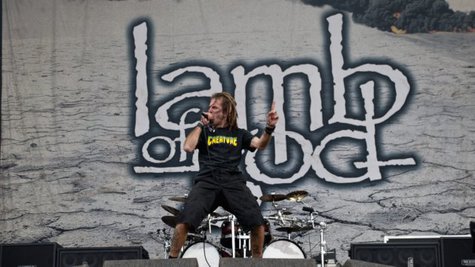 On March 5, Lamb of God singer Randy Blythe was acquitted of manslaughter by a Czech court in connection with an incident that took place during the band's 2010 concert at Club Abaton in Prague. Blythe was accused of roughing up a fan named Daniel Nosek after he leaped onto the stage during the show. Czech Republic authorities alleged that the incident caused injuries that led to Nosek's death 14 days later.
In an open letter posted on Instagram.com , the singer explains that while he feels that Prague is a "wonderful place," it is also one of "great sadness" for him. "While I am relieved that my innocence was proven and apparently I shall not be going to prison, I am in no way shape or form a happy man right now," he writes. "A young man is still dead, and his family still suffers."
Blythe adds that Nosek's family was "very kind" to him during the trial and that they showed him "great kindness - with silence, with actions, and finally with words."
"They spoke on my behalf to the court, and we had a private talk afterwards," he writes. "They just want to get on with their lives the best they can. I wish them only the best, and will keep them in my thoughts and prayers."
The end of the letter asks that fans send "healing thoughts" to Nosek's family.
Copyright 2013 ABC News Radio