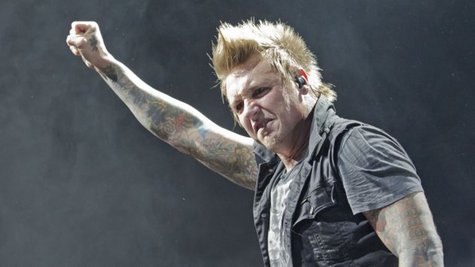 Jacoby Shaddix is ready for his next challenge. The Papa Roach frontman says he's looking to tackle some new projects once the band finishes their current tour promoting their latest album, The Connection .
"I wanna kind of spread out a little bit and try some new things," he tells ABC News Radio. "I think my next baby step will be either working with another band or just maybe doing like a song for a movie soundtrack or something like that. I don't really feel like I need to start a side project or anything like that but just dabble in a couple little things to just kinda separate myself a little bit."
Shaddix hints that he's hoping the band will go on a hiatus in the near future so he'll be free to have time to explore other opportunities. "I've considered the idea of [a hiatus for Papa Roach]," he reveals. "I [just] gotta make sure everybody else wants to do the same thing…because this is a band. We got to stick together and that's what it's about…we gotta take care of each other first. But we own a recording studio, so, come on I want to produce a record!"
Papa Roach has tour dates scheduled until July 3, so it's unlikely that Shaddix will any get time to work on anything new before then.
Copyright 2013 ABC News Radio