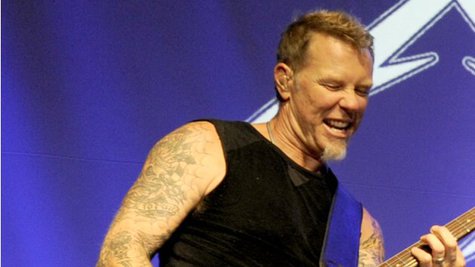 Metallica frontman James Hetfield says that while the band has a number of songs written for the follow-up to 2008's Death Magnetic, it's been difficult to record the new album because they're always out on the road.
"Gigs keep popping up that are too exciting to stay home for," the singer tells Australian radio station Triple M . "We have lots of material [we've been] working on from the day Death Magnetic ended all the way up until now."
Hetfield adds that the band will explore new creative avenues on the upcoming album, which will feature "lots of different sounds [and] different styles." "We're one of those bands that doesn't really care what people want," he explains. "We have been artists since day one. We're not going to roll over for anyone and, you know, we're Metallica for a reason and we're going to keep doing that."
In the meantime, Metallica fans can look forward to seeing the band perform headlining sets at their Orion Music + More Festival June 8-9 at Belle Isle Park in Detroit, Michigan, as well as seeing the band's 3D concert film, Metallica Through the Never , which will arrive in theaters on August 9.
Copyright 2013 ABC News Radio