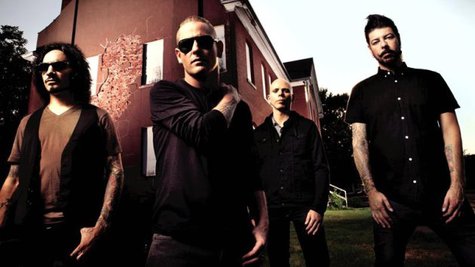 Next month, fans will get their hands on the first issue of Stone Sour 's comic book adaptation of their double concept album, House of Gold and Bones . Frontman Corey Taylor says that while he's enjoying the process of making the comic mini-series, it requires more work than he originally anticipated.
"It's been kicking my butt the whole time," he tells ABC News Radio. "There's so many people that you have to over-explain the things that you see in your head to the artist because they can't read your mind. There's all these little things that keep a comic moving that I just kind of took for granted because, you know, as a reader you just enjoy it when it's done really well."
Taylor adds that he learned a lot while making the four-issue series, and that he was able to bring his unique perspective as a comic book fan into the mix. "[The people at Dark Horse Comics] really tried to, kind of, convey to me how a comic should feel and they've let me stray from the norm here and there," he explains. "So, I think between all of us we've been able to make something really exciting."
The first issue of the comic book series will be available starting April 17. House of Gold & Bones Part 2 will arrive at all the usual outlets on April 9.
Copyright 2013 ABC News Radio