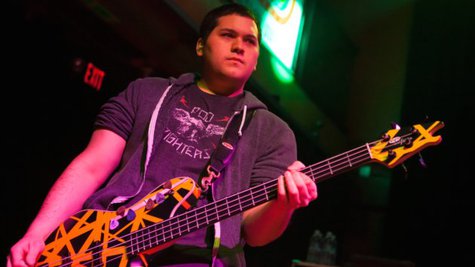 Van Halen is gearing up to head back on the road with appearances set for Australia in April and Japan in June, but bass player Wolfgang Van Halen reveals that the group also may have new material on the way.
The bass player tells Billboard , he's proud to have had a hand in getting his father Eddie , uncle Alex and lead singer David Lee Roth together to work on material for the band's 2012 reunion album A Different Kind of Truth, digging through old demos that he says, "kinda put dad, Al and Dave into the mindspace of when they wrote, like, 'Runnin' With the Devil' and 'Dance the Night Away' and stuff like that."
And he tells Billboard that while there's still more old material to mine there's "some new stuff that we've been working on, too." No word yet on when or if Van Halen plans to record any of the new material.
Meanwhile, Wolfgang is isn't your average 21-year-old, content to sit around playing video games during his downtime from Van Halen. Last year he helped Creed and Alter Bridge guitarist Mark Tremonti by filling in on bass with Tremonti's eponymous band. Now Van Halen has officially joined Tremonti full-time, the bass player reveals. He's also started writing with Tremonti for that band's next album.
"Van Halen is definitely the priority," Wolfgang says, "but whenever Van Halen isn't doing anything, I treat this as another band I'm legitimately in. I'm really excited to be on the next record and have some sort of influence on the writing."
Copyright 2013 ABC News Radio