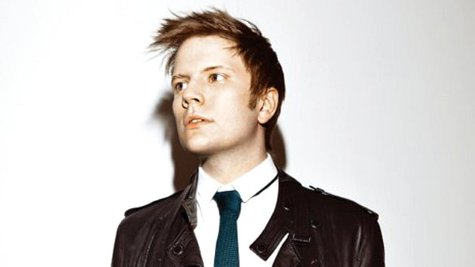 Fall Out Boy 's Patrick Stump has a message for you: stop hatin'.
The singer has posted a lengthy essay on his blog slamming our society for being so obsessed with hating everything and everyone, from Anne Hathaway to Dane Cook to Nickelback , Creed and Limp Bizkit . In fact, when it comes to those bands, Patrick says, "They've become ubiquitously hate-able. I would not be exaggerating to state I've simply never heard someone admit to liking them."
"We derive our own identities from the act of hating," he writes. "We connect on the things we are disappointed in. Some may argue that nothing in history gathers a crowd like complaining about Lady Gaga 's meat dress...complaining has brought together more people than cheap liquor. 'Who hates the government?' 'Cheeer!!!!' 'Don't you just hate Justin Bieber ?' 'Huzaaaaah!'"
And Patrick says not only is he guilty of this himself, but he's been the victim of it too.
"I can't tell you how many times I (either as part of Fall Out Boy or as a solo artist) have asked another artist to tour together or work together on a song and been shot down on the grounds of 'Oh you guys are lame,'" he admits. "I can't tell you how many times I (either as part of Fall Out Boy or as a solo artist) have probably unwittingly done the same exact thing to another artist."
In fact, Patrick says he's so aware of how uncool some people think his band is that he "can't even watch the HBO show Girls (which I love) without thinking to myself 'Oh man, these characters and maybe even some of these actors would probably be too ashamed to be caught dead even knowing someone who still owns a Fall Out Boy shirt.'"
Summing up, Patrick says, "I'm not saying everyone needs to go around playing nice and never admitting that they dislike things. That'd be ridiculous. But perhaps we as a culture have exhausted (at least for a little while) whatever can positively be gained by ignorantly dismissing things as loudly as we can."
He adds, "I started off talking about Nickelback. I really couldn't tell you one of their songs. What qualifies me to say I dislike them? Dane Cook? He was actually pretty rad on that Louis C.K . show."
Next time someone mentions one of these easy targets, Patrick says, he'll "politely decline" to join in the hating.
Fall Out Boy's new -- and presumably non-lame -- album Save Rock and Roll will be out in April.
Copyright 2013 ABC News Radio