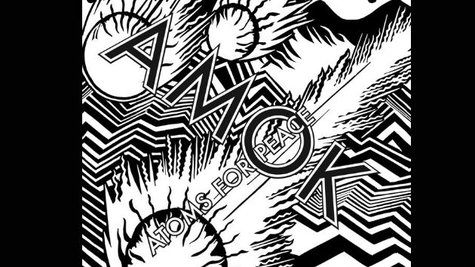 As expected, Atoms for Peace -- the side project of Radiohead frontman Thom Yorke that includes bassist Flea from Red Hot Chili Peppers -- made a big splash on the Billboard 200 album chart this week.
The band's first full-length release, Amok , debuted at #2 on the tally, selling 50,000 copies its first week out, according to Nielsen SoundScan. While Amok couldn't beat pop singer Bruno Mars ' Unorthodox Jukebox for the top spot on the list, the album did get the #1 slot on Billboard 's Rock Albums, Independent Albums and Dance/Electronic Albums charts this week.
Meanwhile, Mumford & Sons' Babel dropped from #1 to #3 on the Billboard 200 albums chart this week, selling 43,000 copies, according to Nielsen SoundScan. Babel had ruled the #1 spot on the list for two weeks straight, thanks to the release picking up the Album of the Year trophy at the Grammy Awards. Before being unseated by Mars, Babel was perched at the top of the chart for a total of five non-consecutive weeks: it had previously dominated the tally for three weeks straight after it was released last year.
In addition, The Lumineers fell a couple of spots on the Billboard 200 chart this week. The band's self-titled debut album dropped from #5 to #7 on the list, selling 30,000 copies, according to Nielsen SoundScan.
Copyright 2013 ABC News Radio