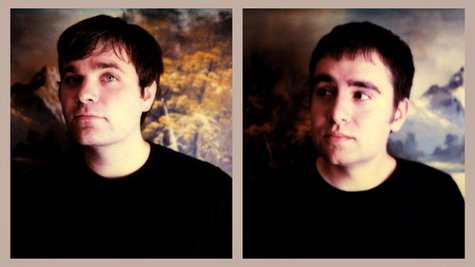 Ever wonder how electronic artist Jimmy Tamborello partnered up with Death Cab for Cutie frontman Ben Gibbard to become The Postal Service ? The band is offering up their humorous take on the subject in a new video on FunnyOrDie.com.
In the nine-minute clip , Tamborello and a Sub Pop Records executive hold tryouts for The Postal Service in 2002. A variety of rock stars get their shot to be in the band, including Foo Fighters bassist Nate Mendel , Blink-182 guitarist Tom DeLonge , former Guns N' Roses bassist Duff McKagan , Helmet guitarist Page Hamilton , and a shirtless Moby , who trashes the audition room while screaming obscenities. When Gibbard takes the stage and begins singing lyrics to The Postal Service's track, "The District Sleeps Alone Tonight," he gets the job and a new band is born.
In other Postal Service news, the band has announced another handful of tour dates to celebrate the April 9 release of a special edition of their debut album, Give Up Deluxe 10th Anniversary Edition . The new dates include stops in Pomona, CA; Houston, TX; Cedar Park, TX; Berkeley, CA; Kansas City, MO; and St. Paul, MN.
Here are the dates:
4/15 -- Pomona, CA, Fox Theater
6/1 -- Houston, TX, Free Press Summer Fest
6/2 -- Cedar Park, TX, Cedar Park
7/27 -- Berkeley, CA, Greek Theater
7/31 -- Kansas City, MO, Midland Theater
8/2 -- St. Paul, MN, Roy Wilkins Auditorium
Copyright 2013 ABC News Radio
The Postal Service Auditions
from
Ben Gibbard