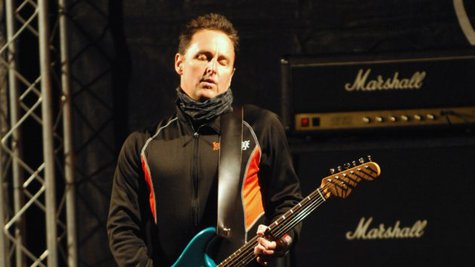 Ex- Screaming Trees / Mad Season drummer Barrett Martin has revealed that he's part of a new band which includes Pearl Jam guitarist Mike McCready and former Guns N' Roses bassist Duff McKagan . Martin says that the idea to form a new group surfaced after he collaborated with McCready on tracks for the 2012 self-titled debut album of his side project with McKagan, Walking Papers .
"I had a whole bunch of song ideas and Mike had a whole bunch of song ideas and Duff had a whole bunch of song ideas that were not making it into Walking Papers," he tells Billboard . "We decided that we would go into the studio and record them."
McCready adds that he's still working on new material for group's debut album, as well as actively recruiting a number of singers to appear on the release. "We wrote some new stuff and we took some of those old Mad Season demos from that [unreleased] second Disinformation record, so we are trying to find something to do with those," he explains. "We're talking to Jaz [ Coleman ] from Killing Joke and I've been trying to find some singers to work on some of that stuff."
A release date for the band's debut album has yet to be announced.
Copyright 2013 ABC News Radio