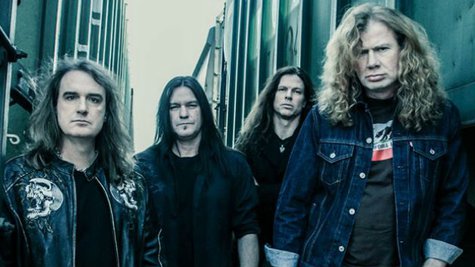 Megadeth is stepping up to help those affected by the deadly tornadoes that ripped through Moore, Oklahoma last month. The band has just announced that the Regional Food Bank of Oklahoma will receive all of the band's proceeds from their July 16 Gigantour concert at the Zoo Amphitheatre in Oklahoma City.
"Many amazing bands have come forward to aid Oklahomans since the May tornadoes came and tore apart their homes and lives," says frontman Dave Mustaine in a statement. "Now it's time for Heavy Metal to give to this community!"
Megadeth's generosity doesn't end there. They'll also participate in another fundraiser to support tornado victims while they're in town. The band will be playing in an all-star softball game at the ASA Hall of Fame Complex in Oklahoma City the day before their Gigantour concert. Fans who attend the game will be asked to make a $5 donation, which will also benefit the Regional Food Bank of Oklahoma.
Megadeth 's traveling Gigantour festival kicks off on July 3 at Meadowbrook in Gilford, NH. In addition to a headlining set by Megadeth, the event will feature performances by Device , Newsted , Black Label Society , HELLYEAH , and Death Division . Visit Gigantour.com to view the full itinerary.
Copyright 2013 ABC News Radio