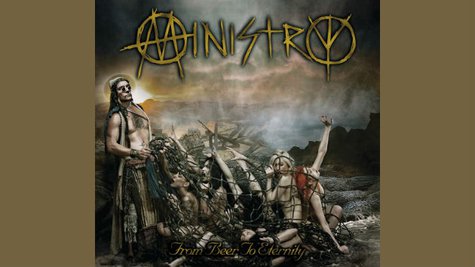 Ministry has announced the release date for their final studio album, From Beer to Eternity . It will arrive at all the usual outlets on September 6. Frontman Al Jourgensen notes that the upcoming record is dedicated to the group's late guitarist Mike Scaccia , who died in December 2012.
"Mikey was so on fire and inspired, and really a driving force for this record," he says in a statement on the group's Facebook page . "I'm super proud of From Beer to Eternity because it's my tribute to Mikey's incredible talent, and I feel it honors him and all of the years we spent together making music."
In addition, the group has unveiled the artwork for From Beer to Eternity . It features a photo of Jourgensen as a fisherman who has captured six naked women in a giant net.
You'll get your first taste of the new cuts when Ministry drops the first single, "PermaWar," on iTunes in late July. Here's the track list for From Beer to Eternity :

"Hail to His Majesty"
"Punch in the Face"
"Permawar"
"Perfect Storm"
"Fairly Unbalanced"
"The Horror"
"Side FX Include Mikey's Middle Finger (T.V.4)"
"Lesson Unlearned"
"Thanx but No Thanx"
"Change of Luck"
"Enjoy the Silence"
Copyright 2013 ABC News Radio