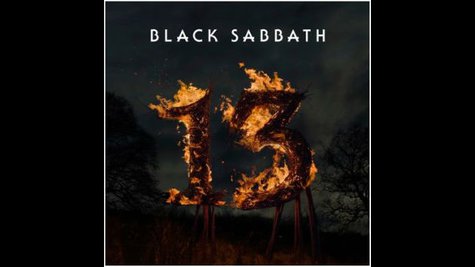 Black Sabbath 's 13 is #1 -- on the U.K. album charts, that is. The legendary heavy-metal band's first full-length studio effort to feature founding frontman Ozzy Osbourne since 1978's Never Say Die debuts at the top of the country's Official Albums Chart according to the U.K.'s Official Charts Company.
The milestone comes 42 years and eight months after Sabbath last reached #1 on the U.K. albums tally -- with their second release, 1970's Paranoid . This sets a U.K. record for the most years between chart-topping studio releases. The previous record for the longest period between #1 studio albums was 38 years, set by Bob Dylan , whose 2009 release Together Through Life was his first #1 on the Official Albums Chart since 1970's New Morning .
Sabbath also eclipses Rod Stewart 's recently set record for the British artist with the most years between chart-topping studio releases in the United Kingdom. The singer's latest album, Time , bowed at #1 just last month -- 37 years after he scored his previous chart-topping original album, 1976's A Night on the Town .
"I'm in shock!" Osbourne tells OfficialCharts.com about 13 's landmark achievement. "The success of this album has blown me off my feet. We've never had a record climb the charts so fast!"
Regarding surpassing Stewart's record, Ozzy adds, "It's great, but Rod's the same as us, we've got something other people haven't got. It's all manufactured bulls**t these days. But the likes of Rod, and Elton John and us have got something different. We know our craft."
Black Sabbath's 13 also is expected to debut at the top of the Billboard 200 albums chart this week. HITS Daily Double estimates that 13 will move somewhere around 120,000 to 130,000 copies. The band's highest-charting album in the U.S. was 1971's Masters of Reality , which peaked at #8. The Billboard 200's new top 10 will be revealed on Wednesday.
Copyright 2013 ABC News Radio