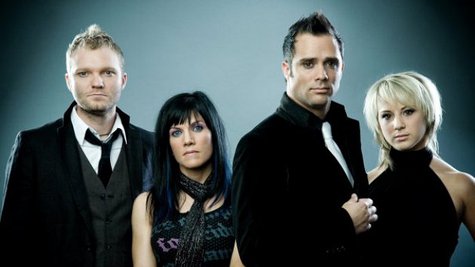 Skillet is ready for you to check out another cut from their upcoming ninth studio album, Rise . The band has just offered up a stream of "Not Gonna Die," the next single from the release, at USAToday.com .
Singer/bassist John Cooper says he feels the track is a fair representation of what fans can expect from Rise . "It feels like, to me, what the normal Skillet fan is hoping the album sounds like," Cooper tells the newspaper. "It's very dramatic, but it's also inspiring. It's a song that basically refusing to give up on finding that hope and taking that control of your life, even if it feels like you're losing the fight."
You'll get your chance to hear "Not Gonna Die" performed live when the band hits the road for the Carnival of Madness Tour, which kicks off on August 13 at the Jacobs Pavilion at Nautica in Cleveland, Ohio. Other bands set to take the stage at the event include Shinedown , Papa Roach , In This Moment and We as Human . Visit CarnivalofMadness.com to view the full itinerary.
Copyright 2013 ABC News Radio