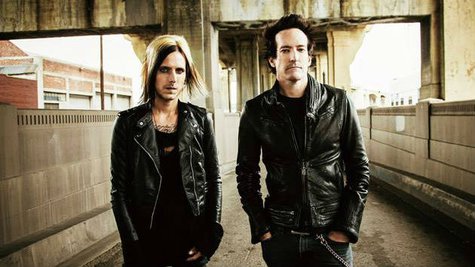 Filter released their sixth studio album on Tuesday, The Sun Comes Out Tonight . Frontman Richard Patrick says that the unique title was inspired by his former drug use.
"In my lifetime, the sun definitely came out at night," he tells ABC News Radio. "I'm a recovering drug addict and a recovering alcoholic, but when I was taking drugs, there were a few nights where my blood turned into golden, beautiful sunshine. It was all chemical-based, and I knew it was a lie, but it was completely overwhelming, and it was like the sun had come out at night."
Patrick adds that the newly released album deals with some heavy themes, which mirror issues that he's dealing with in his personal life. "Right now I'm in a dark place," he explains. "I personally have been going through some really intense stuff and it's easy to just sit there and write about betrayal and no one listening, you know, so there's a lot of that on the record."
Filter is currently out on tour promoting The Sun Comes Out Tonight .
Copyright 2013 ABC News Radio