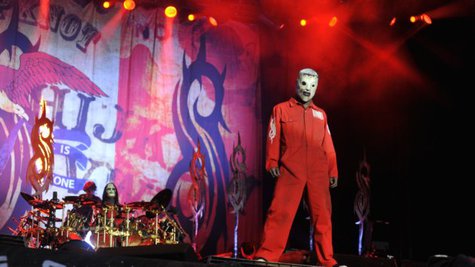 For months now, members of Slipknot have expressed different opinions about when the band expects to begin recording their first album without late bassist Paul Gray , who died in 2010. Now, frontman Corey Taylor has revealed that the guys have some tentative plans to begin working on new material in 2014.
"The only thing we've talked about is the beginning of next year, getting together and seeing where each other are at, musically," Taylor tells Billboard . "I know I've got some music that I've been working on. [Drummer] Joey [ Jordison 's] got a bunch of stuff. [Guitarist] Jim [ Root 's] got some stuff. [ Shawn ] "Clown" [ Crahan 's] always got a lot of really interesting musical ideas. So it'll be really cool to see what happens."
Taylor adds that the band doesn't have a specific timetable in mind for the group's follow-up to 2008's All Hope Is Gone , and they don't want anyone to dictate a deadline to them.
"It's going to be a daunting task going into the studio without Paul Gray, so I don't need a bunch of suits rushing me through something that is going to be pretty emotional," he explains. "Right now the plan is to just go into the studio and see what happens."
Copyright 2013 ABC News Radio