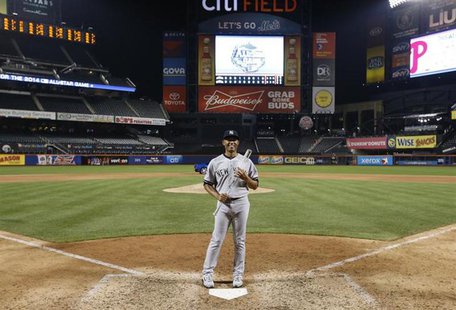 By Julian Linden
NEW YORK (Reuters) - How fitting it was that Mariano Rivera's 13th and final appearance in the All-Star game was in New York.
Not only is the Big Apple the city where Rivera has made his name as the greatest closing pitcher in professional baseball, it is the home of Broadway.
And Rivera's final All-Star act on Tuesday was a moment of baseball theatrics at its grandest.
As with most of his career, the 43-year-old, who wears the same number (42) on his uniform as Jackie Robinson, played the starring role.
Rivera, in his final Major League season, pitched only one inning but still provided an everlasting memory for baseball nostalgics everywhere with an emotional appearance.
Although he normally pitches the ninth, he was brought in to pitch the eighth for an American League team that won the game 3-0.
His entry was preceded by an appearance by Neil Diamond, who sang "Sweet Caroline" for the crowd at Citi Field.
Then Rivera walked on to the mound to the booming sounds of Metallica's "Enter Sandman", his theme song when he closes for the New Yankees.
The crowd rose to their feet to applaud him while his team mates and American League coach Jim Leyland all remained in the dugout as he warmed up, in a moving tribute to the Panamanian.
"It was kind of a stage," Leyland said. "I'm not used to that, I'm more of a baseball guy but I hope I passed the test in New York.
"I can't tell you how emotional it was in the clubhouse before the game. It was very touching."
Rivera's one inning was flawless. He did not give up a hit and his 16 pitches featured 11 strikes. In a low scoring game, he was named the Most Valuable Player and was overcome by emotion as the plaudits flowed.
"I can't describe it. I have no words for it. It's been a wonderful night," he said.
"The only thing that will top this is the World Series."
(Editing by John O'Brien)