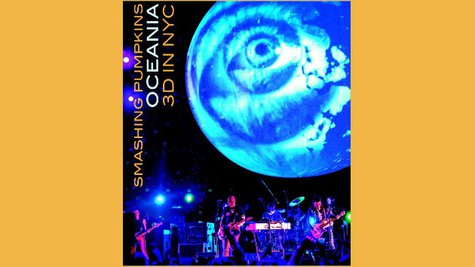 The Smashing Pumpkins will release a live CD/DVD set that documents a concert the band performed at Brooklyn's Barclays Center on December 10, 2012 to support their latest album , Oceania . Titled Oceania: Live in NYC , it'll arrive at all the usual outlets on September 3.
The collection boasts 24 career-spanning tracks, including hits "Tonight, Tonight" "Cherub Rock" and "Bullet with Butterfly Wings," as well as a cover of David Bowie 's 1969 hit, "Space Oddity." In addition to offering a standard DVD of the concert, a 3D version of it will be made available on Blu-ray.
While Oceania: Live in NYC will be available separately on CD, DVD and vinyl formats, a package featuring both the CD and DVD of the release will also be available.
Here's the track list for Oceania: Live in NYC :
Disc 1
"Quasar"
"Panopticon"
"The Celestials"
"Violet Rays"
"My Love Is Winter"
"One Diamond, One Heart"
"Pinwheels"
"Oceania
"Pale Horse"
"The Chimera"
"Glissandra"
"Inkless"
Disc 2
"Wildflower"
"Space Oddity"
"X.Y.U"
"Disarm
"Tonite Reprise"
"Tonight, Tonight"
"Bullet with Butterfly Wings"
"The Dream Machine"
"Hummer"
"Ava Adore"
"Cherub Rock"
"Zero"
Copyright 2013 ABC News Radio