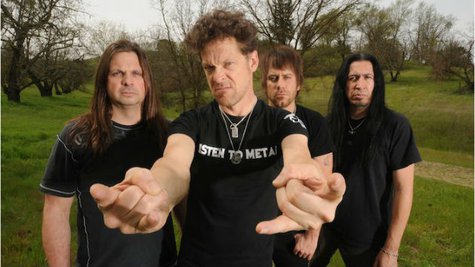 Back in March, Jason Newsted announced that Staind guitarist Mike Mushok would be joining his new band, Newsted . Now, the former Metallica bassist has revealed how Mushok was chosen to become a part of the group's lineup.
"My plan was always to have a four member live band when we took the music out," he tells ABC News Radio. "So we started getting some names together, and I kinda put the word out that I was gonna audition guitar players. I had a couple ideas…of who I wanted, but those didn't really work out and people that we had hooked up with management-wise had been mentioning Mike Mushok of Staind. So he came in and played and that was it."
Newsted adds that Mushok wasn't just a hired gun for the group, noting that the guitarist contributed heavily to the songwriting process. "[Mushok] helped write six or seven of the new songs on the new LP," he explains. "He's tracked on almost all of them. We're delivering 13 songs…he's played on ten of those, and I'm very thankful to have him."
Newsted's upcoming debut album, Heavy Metal Music , will hit stores on August 6. You'll get your chance to hear the new songs performed live when the group hits the road on Megadeth 's traveling Gigantour festival, which kicks off on Wednesday at Meadowbrook in Gilford, NH. In addition to a headlining set by Megadeth, the event will feature performances by Device , Black Label Society , HELLYEAH , and Death Division . Visit Gigantour.com to view the full itinerary.
Copyright 2013 ABC News Radio