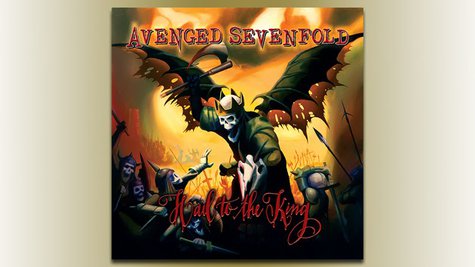 Synyster Gates is excited about the way Avenged Sevenfold 's sixth studio album, Hail to the King, turned out. The guitarist notes that the group's songwriting process has "improved by leaps and bounds," thanks to some intensive musical research the band did while making the album.
"Sonically, this record is our biggest record by f**king far," Gates tells Revolver . "[Frontman] M. Shadows and I were studying everything from f**king classical music to jazz to f**king everything. We really wanted to hone in on our songwriting and production craft. Just seeing how the legends did it."
Hail to the King marks the album debut for drummer Arin Ilejay , who took over for ex-drummer Mike Portnoy in January of 2011. Gates says Ilejay breathed new life into the band during the Hail to the King recording sessions.
"[Ilejay] came in f**king hot and tore us a new a**hole," says Gates. "He has impeccable groove, which we've always known. But what I don't think we knew is his proclivity for taste. He is one of the most tasteful drummers I've ever heard in my life."
Hail to the King will arrive at all the usual outlets on August 27. To celebrate the album's release, A7X will play a free show as a "thank you" to their fans at the Hollywood Palladium on August 26. The band will reveal in the coming weeks how you can win tickets to that concert.
Copyright 2013 ABC News Radio