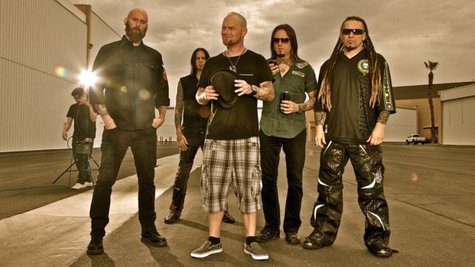 The lineup for this year's Monster Energy Aftershock Festival is now complete. Event producers have just announced that Five Finger Death Punch will be the third headliner for the upcoming fest. The band joins previously announced headliners Avenged Sevenfold and Korn at the event, which will be held September 14-15 at Discovery Park near downtown Sacramento, CA.
5FDP frontman Ivan Moody notes that the group will be playing new tracks from their upcoming double album, The Wrong Side of Heaven and the Righteous Side of Hell , at the festival. "We're excited to take the new albums out on the road so fans can hear some of the new music live," says the singer in a statement. "And what better way to kick off our fall tour than with a massive festival like Aftershock?"
Other artists appearing at the Aftershock Festival include Shinedown , Megadeth , Papa Roach , Volbeat , Skillet , Buckcherry , Halestorm , Device and Pop Evil. To see the complete festival artist roster, head over to AftershockConcert.com .
Copyright 2013 ABC News Radio