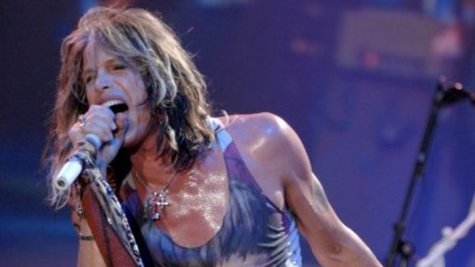 Aerosmith 's Steven Tyler has lent his talents to a new single by The Bayonets , a band featuring longtime Paul McCartney touring guitarist Brian Ray . The "demon of screamin'" contributed backing vocals and harmonica to the tune, "Vagabond Soul," which will be available as a digital download starting July 4 at TheBayonets.com and BrianRay.com.
Tyler filmed a brief video reciting a little promotional rhyme about the single that you can watch on YouTube. "Good God almighty, who's on a roll? It's The Bayonets with the 'Vagabond Soul,'" he declares. "Yeah baby, it's cool s**t. July 4th." Steven then adds some fireworks noises to cap things off.
The song will be the third track The Bayonets have released digitally via their website over the last few months, following "Smartphone" and "Sucker for Love." Also appearing on the new tune are Black Crowes keyboardist Adam MacDougall , Elvis Costello bassist Davey Faragher and the Tupelo Horns .
The Bayonets are co-led by Ray and Los Angeles songwriter/producer Oliver Leiber , who's the son of late legendary pop lyricist Jerry Leiber .
Copyright 2013 ABC News Radio