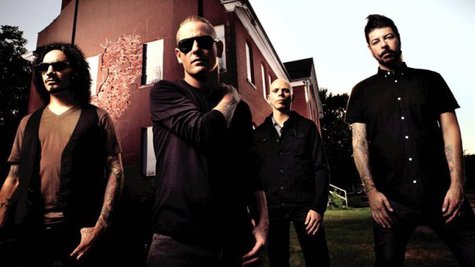 Fans don't have too much longer to wait to get their hands on Stone Sour 's comic book adaptation of their double concept album, House of Gold and Bones . Frontman Corey Taylor , who's an avid comic book fan, says that creating the four-issue mini-series was an easy decision.
"I wanted to do it with this because it honestly felt, no pun intended, kind of tailor-made for it," he tells ABC News Radio. "I wrote the short story [that House of Gold and Bones is based on] so it could be very visual. I wanted it to evoke a kind of imaginative projection in people's heads, so I think it was a really short jump to comics, so it made sense to do that."
Taylor adds that while he enjoyed the experience of making his first comic book series, he doesn't expect to produce more of them in the future. "Stuff like that…it takes a lot of time, it takes a lot of energy, takes a lot of effort and a lot of hard work," he notes. "Just from a four-issue mini-series standpoint, it's been kicking my butt the whole time, so I don't know. I hate to say never, but you never know."
The first issue of the House of Gold and Bones comic book mini-series will be available on April 17. House of Gold and Bones Part 2 , which doesn't have a firm release date yet, is expected to be released in April as well.
Copyright 2013 ABC News Radio