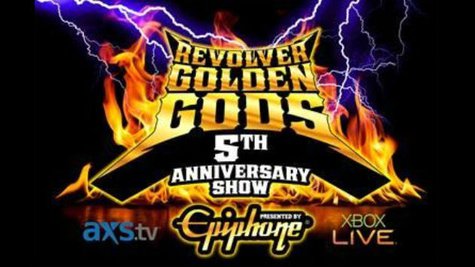 Metallica will be presented with the Ronnie James Dio Lifetime Achievement Award at the Fifth Annual Revolver Golden Gods Awards ceremony, set to take place May 2 at Club Nokia in Los Angeles. The metals mavens also will perform during the gala, along with Stone Sour , Anthrax , Five Finger Death Punch , Dillinger Escape Plan , Halestorm and other as-yet-unannounced bands.
Metallica's Lars Ulrich says in a statement, "Since the Revolver Golden Gods Awards is fast becoming THE most rocking awards ceremony in the hard rock world, we are beyond psyched to be at the receiving end of this shout-out and in the distinguished company of Rush , [ Motörhead 's] Lemmy [ Kilmister ], Ozzy [ Osbourne ] and Mötley Crüe ."
This year's other honorees include Rob Zombie , who will receive the prestigious Golden God Award; and Black Sabbath guitarist Tony Iommi , who will be recognized with the Riff Lord Award.
Among the other awards that will be handed out throughout the evening are Best Guitarist, Best Drummer, Paul Gray Best Bassist, Best Vocalist, Album of the Year, Song of the Year, Best New Talent, Best Live Band and Comeback of the Year. Visit Revolver magazine's website to cast your vote for who you think should win. Voting will be open until April 15.
For the first time ever, the Revolver Golden Gods Awards will be broadcast live on U.S. television on the AXS network. The show also will be viewable on Xbox LIVE, as well as on the Xbox and Revolver Facebook pages.
In conjunction with the awards, Stone Sour and In This Moment will embark on the inaugural Revolver Road to the Golden Gods Tour in March. The 30-city trek will wind its way around the U.S. before finishing up at the 2013 Revolver Golden Gods Awards Show.
Here is the list of nominees for this year's Golden Gods Awards:
Best Guitarist:
John 5 (Rob Zombie & solo)
Stephen Carpenter (Deftones)
Alex Lifeson (Rush)
Misha Mansoor (Periphery)
Brendon Small (Dethklok)
Kim Thayil (Soundgarden)

Best Drummer:
Abe Cunningham (Deftones)
Mario Duplantier (Gojira)
Arejay Hale (Halestorm)
Gene Hoglan (Dethklok & Testament)
Roy Mayorga (Stone Sour)
Neil Peart (Rush)
Paul Gray Best Bassist:
Rex Brown (Kill Devil Hill)
Steve Harris (Iron Maiden & solo)
Lemmy Kilmister (Motörhead)
Geddy Lee (Rush)
Jason Newsted (Newsted)
Sergio Vega (Deftones)
Best Vocalist:
Phil Anselmo (Down & solo)
Maria Brink (In This Moment)
Chris Cornell (Soundgarden)
Lzzy Hale (Halestorm)
Chino Moreno (Deftones)
Corey Taylor (Stone Sour & Slipknot)
Best New Talent:
Device
Ghost
Kvelertak
Miss May I
Of Mice & Men
Young Guns
Best Live Band:
Anthrax
Five Finger Death Punch
Hatebreed
Lamb of God
Slipknot
Volbeat
Comeback of the Year:
Aerosmith
The Darkness
Quicksand
Refused
Soundgarden
Tenacious D
Song of the Year:
Asking Alexandria, "Run Free"
Avenged Sevenfold, "Carry On"
Black Veil Brides, "In the End"
Dethklok, "I Ejaculate Fire"
Halestorm, "Love Bites (So Do I)"
In This Moment, "Blood"
Most Dedicated Fans:
Black Label Society
Black Veil Brides
A Day to Remember
HIM
Rammstein
Slipknot
Album of the Year:
Deftones, Koi No Yokan
Gojira, L'Enfant Sauvage
Halestorm, The Strange Case of…
Marilyn Manson, Born Villain
Soundgarden, King Animal
Stone Sour, House of Gold & Bones Part 1
Copyright 2013 ABC News Radio