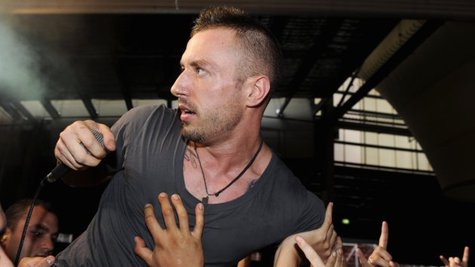 Good news for fans of Dillinger Escape Plan : the band is planning on releasing their follow-up to 2010's Option Paralysis sometime this spring. Frontman Greg Puciato says that while the band is behind on their production schedule, they hope to have the album out in the next few months.
"Every time we get into the studio we think we're going to be faster," Puciato tells Noisecreep . "We're all extremely ADD-ish -- producer included, which tends to cause us to make things take forever. Even still, everything is going to come out relatively on time –- we're going to make an April or May release it looks like."
The singer adds that the band's upcoming release will feature some "really aggressive" riffs that were influenced by old punk and hardcore records. "It's not a blatant hardcore record or anything like that," he explains. "I actually think this is the most all over the place and weirdest record we've ever written."
An official title and release date for their fifth studio album has yet to be announced.
Copyright 2013 ABC News Radio