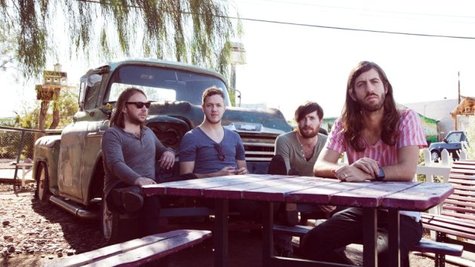 Imagine Dragons is teaming up with MTV to offer fans a great opportunity: studying music abroad.
The group is one of several who will be working with mtvU and the State Department to nominate candidates to receive Fulbright-mtvU Fellowships. Essentially a scholarship program, the fellowships were established to encourage students to travel to other countries and learn how music can foster global understanding. Previous fellowship winners are currently studying everywhere from Kosovo to India to Botswana.
You can apply for the fellowships at Fulbright.mtvU.com from now through March 1. Imagine Dragons and the other artists will review the applications, but a presidentially-appointed board will make the final decisions. "It's an honor to be a small part of a program that does so much good," said the band in a statement. "Music is such a universal means of communication -- it seems fitting that the Fulbright Fellowship uses it as a tool to make a positive cross-culture impact."
Imagine Dragons kick off a North American tour February 8 in Tempe, Arizona which will keep them on the road through the end of March. Then, they'll head overseas for more dates.
Copyright 2013 ABC News Radio