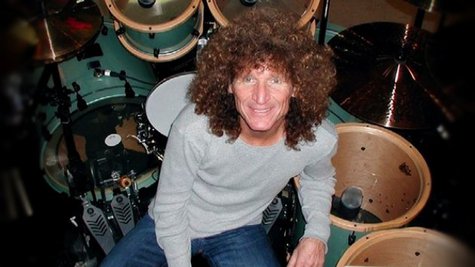 It's "here I go again" for drummer Tommy Aldridge , who has rejoined Whitesnake for a third stint with the U.K. pop-metal group. Aldridge has signed on to take the place of Brian Tichy , who recently announced that he was exiting the band to focus on his S.U.N. ( Something unto Nothing ) project.
"I can't express how honored & grateful I am to be back in the Snake fold," says Aldridge in a statement posted on Whitesnake's official website. "Working with [frontman David Coverdale and company] has always been a labor of love. So stoked to be back & finish what we started!!"
Coverdale, meanwhile, says of Aldridge's return, "When I asked all the band members to put together their wish-list of potential drummers for us...every one, without exception, had [Tommy] at the top of the list."
The singer also reveals that most fans who responded to the group's request for suggestions on who should fill the vacant drum chair wanted Tommy back in the band. He adds, "So, without further ado, we are delighted to welcome him back with us. It seems it is our destiny to work together. This is going to be so much fun."
In addition, Whitesnake has sent out its thanks to "all the amazing musicians" who applied for the drummer position following Tichy's departure.
"We were blown away by so much incredible talent & we wish each & every one the very best in their lives & careers," the band says in a collective statement.
Aldridge previously played with Whitesnake from 1987 to 1991 and from 2002 to 2007. During the 62-year-old drummer's long career, he also played with Ozzy Osbourne , Thin Lizzy , Ted Nugent , Black Oak Arkansas and Pat Travers Band .
Copyright 2013 ABC News Radio