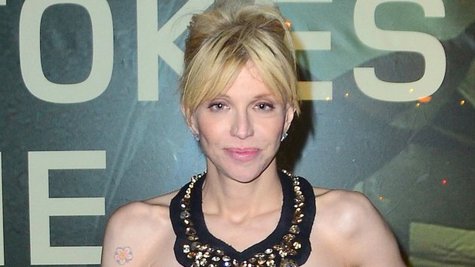 Courtney Love clearly is still in a fighting mood when it comes to her ongoing dispute with Foo Fighters frontman Dave Grohl over lost Nirvana revenue. The singer claims that the former Nirvana drummer hasn't been dividing up the band's profits fairly and that she hasn't received everything she's owed.
"The point is, it's about a very large sum of money that they have taken and it's incredibly sophisticated," she tells ABC News . "So the problem with me and Dave is, he is mindlessly rich just from the Foo Fighters? My question is, why does he need all the Nirvana money?" Love adds that she has recently hired a woman named Caroline Egan , who she described as "her banker," to look into the matter.
In other Love news, the singer recently revealed to Rolling Stone that she's working on new solo material, which Courtney says includes a "really fast rock song" titled "This Is War," produced by former Smashing Pumpkins guitarist James Iha . Love has said that she hopes to release "This Is War" on February 7.
Copyright 2013 ABC News Radio