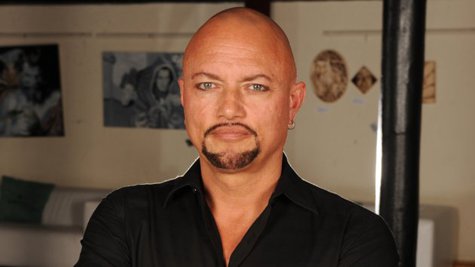 Founding Queensrÿche singer Geoff Tate has announced that his recently launched new version of the group, which he put together after his acrimonious split with his old band mates, has undergone some lineup changes and is readying a new album.
Back in September 2012, Tate revealed that his new outfit would feature ex- Ozzy Osbourne / Quiet Riot bassist Rudy Sarzo , Ratt drummer Bobby Blotzer and former Megadeth guitarist Glen Drover , as well as two Queensrÿche alumni -- guitarist Kelly Gray and touring keyboardist Randy Gane . Now, the singer reports that ex-Quiet Riot guitarist Robert Sarzo has taken Drover's place, while former AC/DC and Dio drummer Simon Wright also has joined the group. Blotzer, meanwhile, will continue to contribute to the group's studio recordings.
In addition, Tate's Queensrÿche has announced that its signed a deal with Cleopatra Records, which will put out a new album by the group later in 2013. The release will feature a guest appearance by ex- Judas Priest guitarist K.K. Downing .
"I try to surround myself with the best players available and feel our longtime fans deserve nothing less," says Tate in a statement. "I expect the forthcoming effort to be one of our best yet."
In other news, the new Queensrÿche will hit the road in the spring for a U.S. tour that will celebrate the 25th anniversary of the band's classic album, Operation: Mindcrime . The trek will get under way on April 6 in West Wendover, Nevada, and currently is plotted out through an April 22 show in Sacramento, California. Additional performances will be announced soon.
Here are all the confirmed upcoming tour dates for Tate's Queensrÿche:
4/6 -- West Wendover, NV, Peppermill Casino
4/9 -- Aspen, CO, Belly Up
4/11 -- Denver, CO, Paramount Theatre
4/12 -- Albuquerque, NM, Hard Rock Hotel & Casino
4/13 -- Las Vegas, NV, Chrome
4/14 -- Tempe, AZ, Marquee Theater
4/16 -- Tucson, AZ, Rialto Theatre
4/17 -- San Juan Capistrano, CA, The Coach House
4/18 -- Agoura, CA, The Canyon Club
4/19 -- Solana Beach, CA, Belly Up Tavern
4/20 -- Los Angeles, CA, Club Nokia
4/21 -- San Francisco, CA, Fillmore
4/22 -- Sacramento, CA, Ace of Spades
Copyright 2013 ABC News Radio