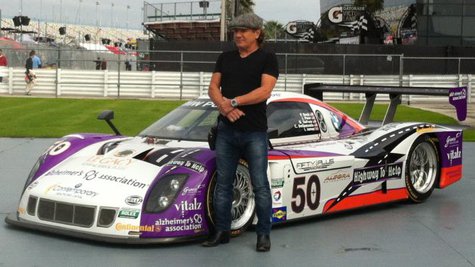 Fans of AC/DC 's Brian Johnson know that in addition to fronting one of the world's greatest rock bands, the gravel-voiced singer loves racing cars. A little over a year ago, the rocker began combining his passion for fast automobiles with his desire to help others in the Highway to Help campaign, and the initiative recently partnered with a new charity, the Alzheimer's Association, to raise awareness and money to fund research into eradicating the disease.
This weekend, Johnson's Fifty Plus Racing team will promote the organization's cause when it participates in the 51st running of the Rolex 24 at Daytona, a 24-hour endurance race taking place from Saturday to Sunday in Daytona Beach, Florida.
"The Fifty Plus Racing team are just proud to support the Alzheimer's Association through the Highway to Help campaign," Johnson tells ABC News Radio. "And what better way to do it…You know, we've got the number on the car, and we've got a lot of exposure from TV and radio. So, we're just gonna try as hard as we can to help these guys."
While scheduling conflicts have forced Johnson to opt out of personally taking part in the Rolex 24, the singer insists that racing fans shouldn't miss the event.
"It's full-tilt boogie for 24 hours, testing the car and the driver to the limits," he says. "You might think it'd be boring, but it's not. It's very, very exciting because there's about sixty-odd cars out there, all duking it out. And, tactically, it's a very fascinating race, as well."
The Speed cable network will air part of the Rolex 24 starting at 3 p.m. ET on Saturday, while additional coverage of the race will be broadcast beginning at 9 a.m. ET on Sunday.
Johnson also reveals to ABC News Radio that personal experience with Alzheimer's motivated him to get involved with the charity, as "a dear, dear friend" is struggling with the disease. He explains that during a recent visit "it took us about 10 to 15 minutes talking and just telling stories about the past before he sort of showed an inkling of recognition." He adds, "It's just awful. It's a silent, cruel way to die."
Although he's not racing this weekend, Johnson tells ABC News Radio that he will take part in upcoming events, and that Highway to Help will continue to promote the Alzheimer's Association's cause as the season progresses. For more information about the organization visit ALZ.org or FiftyPlusRacing.com , or call 1-800-272-3900.
Copyright 2013 ABC News Radio