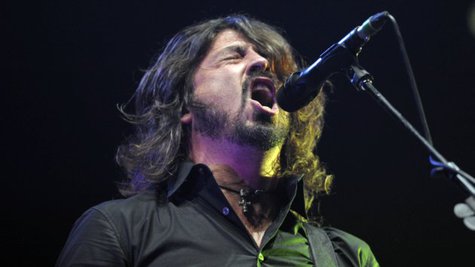 Foo Fighters frontman Dave Grohl has revealed that he has more performances in store for his Sound City Players , a band comprised of some of the artists who appear in his Sound City documentary.
"We plan to do shows all over the world," he tells Billboard . "When I came up with the idea of taking all these performers to the live stage a few months ago, my idea [was] to have video presentations between each performance. We'll have that at the next shows."
The Sound City Players performed their first concert last week during the Sundance Film Festival, and have a second concert scheduled for January 31 at the Hollywood Palladium in Los Angeles, California. That's the same day that Sound City will hit 44 movie theaters across North America for a special, one-night-only screening.
Accompanying Grohl at the upcoming show will be all the members of the Foos, former Nirvana bassist Krist Novoselic , Queens of the Stone Age multi-instrumentalist Alain Johannes , Cheap Trick guitarist Rick Nielsen , Fear frontman Lee Ving , Rage Against the Machine drummer Brad Wilk , John Fogerty , Fleetwood Mac 's Stevie Nicks , Rick Springfield , producer Chris Goss and Robert Levon Been and Peter Hayes of Black Rebel Motorcycle Club .
More dates for Grohl's Sound City Players will be revealed in the coming weeks.
Copyright 2013 ABC News Radio